THE GNOMES IRISH MICROGREENS
We specialise in microgreens, grown to order and harvested the day before delivery and come with outstanding flavour and shelf-life. Our microgreens are bursting with flavour and are sure to bring a new dimension to your menu.
SALAD LEAVES & GARDEN PRODUCE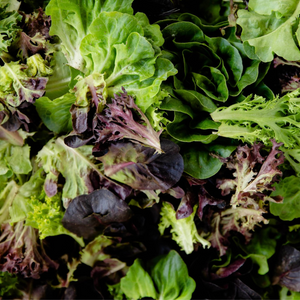 Lettuce Mix (Our Spring Mix)
• Our Signature mix of lettuce leaves expertly hand harvested.
• A solid tasty salad base with an amazing shelf life.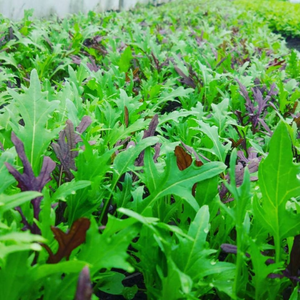 Spicy Mix Salad
• We love mixing mustard & rocket leaves together to produce our Spicy Mix!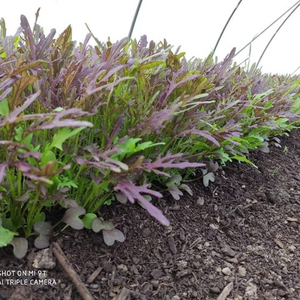 Mustard Leaves
• A mix of mustard leaves usually mizuna & purple frills.
• Tons of flavour! With a light, mild peppery heat.
• Very decorative serrated leaves.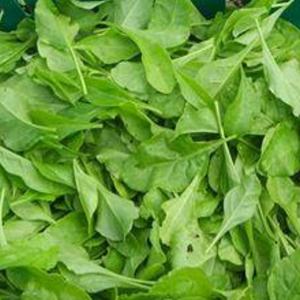 Baby Spinach
• We use a rather unique variety of spinach because of its juiciness. It takes a little bit longer to grow but its flavour is worth it! Delicious.
• Larger spinach for cooking & jucing is also available when this is in season.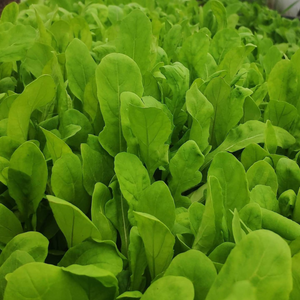 Salad Rocket
• A milder version than its wild cousin. It has the distinctive rocket flavour but abit toned down. Great where you want that flavour but not in an overpowering way.
• Often long loabed leaves as opposed to serrated.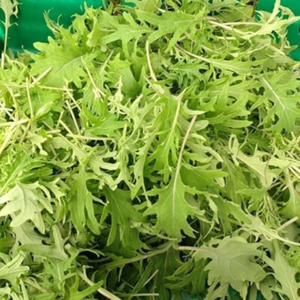 Baby Red Kale
• A very young, tender baby kale. Very suitable for a raw salad!
• Beautiful serrated leaf with a pinkish stem.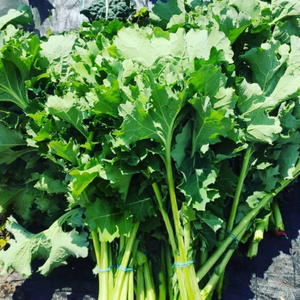 Curly Kale
• Fresh curly kale grown in rich soil cannot be compared to!
• Richer in flavour and minerals.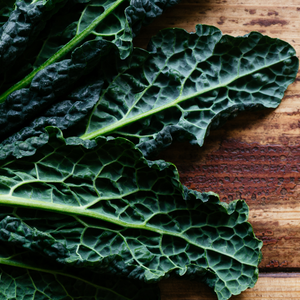 Black Kale (Cavolo Nero)
• Long black kale leaves with distinct kale flavour.
• Very suitable for all your curly kale uses aswell as its Italian heritage uses such as minestrone!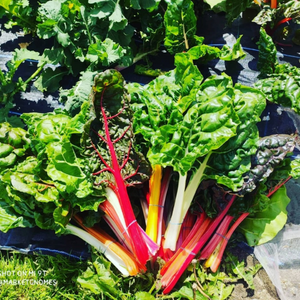 Rainbow Chard
• Easy to spot with its striking colours and large leaves.
• Steamed or blanched leaves make delicious wraps for any filling!
• Colours indicate different nutrients, eat the rainbow!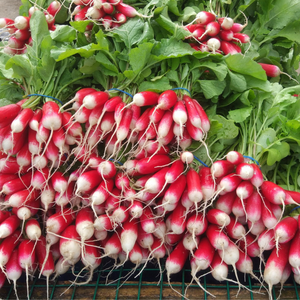 Breakfast Radishes
• Longer than the usual round ones.
• Abit sweeter and milder in spice too, more suitable for raw eating.
• Leaves are delicious too!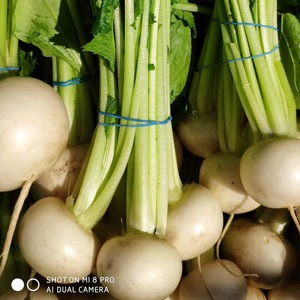 Salad Turnips
• Baby White Salad Turnips are staples in Japanese cooking for thinly sliced quick pickles or raw in soups & salads.
• No need to peel and they are deliciously crunchy, watery and sweet.
• Leaves are very tender and edible too (Nothing like swedes)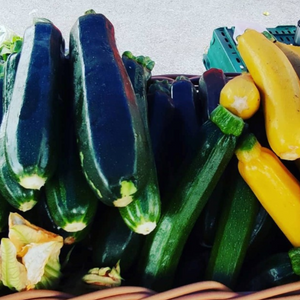 Baby Courgettes (Seasonal)
• Fresh picked baby courgettes are delicious!
• About 7 - 10" Long (18cm - 25cm) no seeds or barely developed).
• Different colours available seasonally.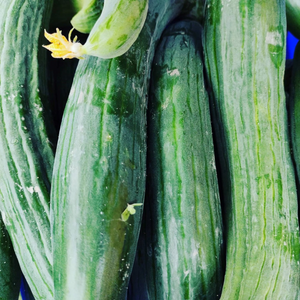 Cucumbers (Seasonal)
• People say they can or can't taste cucumber. When it's grown in rich soil you can DEFINETLY taste them!
• Much more flavour and they can be grown as small or as long as you like.
• We grow many varieties each season to see what we like - Pickling Gherkins also available.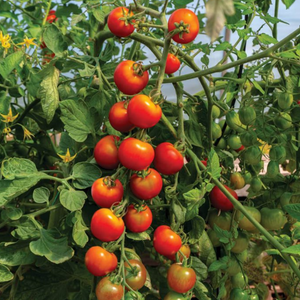 Cherry Tomatoes (Seasonal)
• There is ALOT of debate around tomatoes, it ends here... Grown in rich soil they are amazingly delicious.
• A ton of shapes & sizes exist outside the mainstream imports (which we love to experiment with).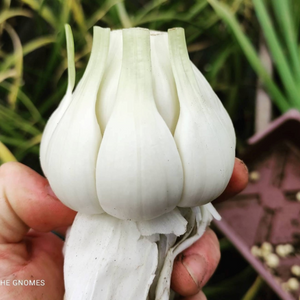 Garlic (Seasonal)
• High quality garlic, grown in small batches.
• When being harvested (end of June/Early July) you can try "Wet" garlic (See photo). Before it cures, the skins are soft, tender and deliciously edible.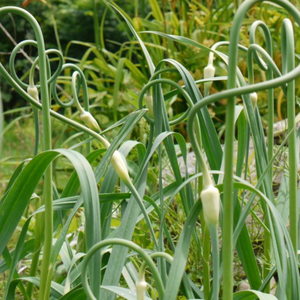 Garlic Scapes (Seasonal)
• Very seasonal crop item. The flower stems of garlic. They are beautiful grilled and put into pasta.
• Raw Spicy Garlic flavour, great for flavouring oils too!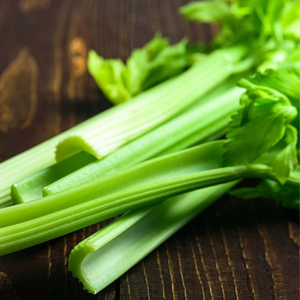 Celery Bunches
• Celery takes quite abit of time to grow from seed so in order to have it available for aslong as possible we sell it in bunches!
• Strong celery stalk flavour, leaves are very usable and are akin to flat parsley.
Herbs
• Parsley (Flat & Curly), Coriander & Dill.
• All fresh cut & harvested to order.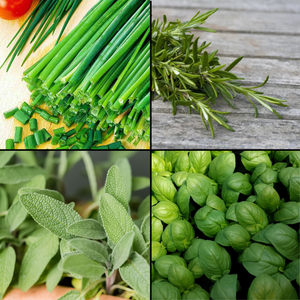 Herbs
• Basil & Chives are great staple herbs for us. With many more available in small amounts.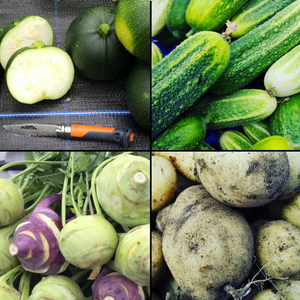 Seasonal Produce (Small Quantities)
• Other produce include Baby potatoes, round courgettes, gherkins & kohlrabi...
• Grown in smaller quantities for select customers.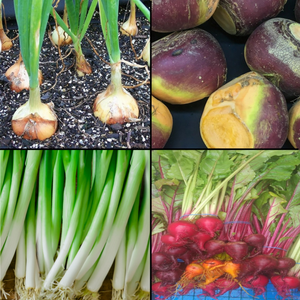 Seasonal Produce (Small Quantities)
• Other produce include Onions, Swede, Scallions & Beetroot...
• Grown in smaller quantities for select customers.
4 WEEK SUBSCRIPTION PROGRAM | REAP THE AMAZING BENEFITS OF MICROGREENS