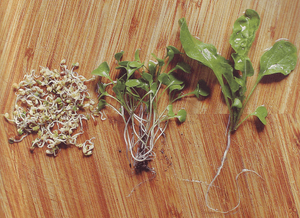 In the photo, you can see sprouts on the left, microgreens in the middle, and a more mature plant on the right.

Microgreens are essentially seedlings of edible vegetables and herbs that have an aromatic flavour and concentrated nutrient content! Please check out the many studies done on the health benefits below!
OK, So What Do I Do With Them!?
Microgreens are intended to be eaten raw as that is the best way to take advantage of their amazing health benefits!
They are very simple to use as full salads, side salads, in soups, smoothies etc and we have a few suggestions below right here!
HOW TO ENJOY OUR MICROGREENS
Our Gnomes Sampler will give you enough Microgreens to add to different meals and boost the nutrition in any dish!
Add them to salads, make a pure microgreen salad, nutritiously boost sandwiches and add them to soups.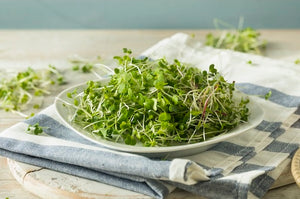 Enjoy a Microgreen Salad
Our Gnomes Sampler has our full range available so we recommend giving it a good toss with your favourite salad dressing, some salt/pepper, some croutons, add some shredded chicken or a veggie substitute.

Make it a side salad or your main meal, either way a nutritious living food punch will be had!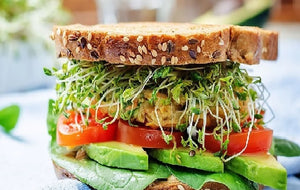 Take a Sandwich to the Next Level
Bread in any context usually isn't the best so we recommend some high quality bread here, we have a ton of sandwich ideas! Working at the market farm and keeping us interested in the humble sandwich has been as ongoing revolution!

Microgreens really tops off whatever filling you choose. As far as salad goes to the addition you just can't beat what microgreens offer per gram regarding nutrition.
Check out some of these beautiful ideas!
There are many ways to use microgreens and your imagination is your only limitation. Everything we eat now can be enhanced by adding microgreen nutrition!
Vegetable Soup with Microgreens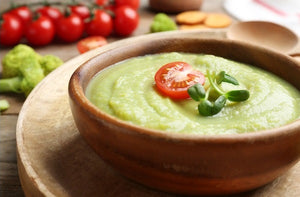 Ingredients
1 Medium Onion
3 Garlic Cloves
1 Decent Leek
2 Large Celery Sticks
3 Medium Carrots
1 Medium Floury Potato (Rooster)
100g Chestnut/Button Mushrooms
2 Large handfuls of Microgreens (Sunflower, Peas, Radish, Broccoli)
1 tsp each of Dried Thyme/Parsley/Basil/Oregano (Use fresh if you have them)
1 Ltr-1.5 Ltr of Vegetable Stock or Chicken Stock. Add as much as you like to cover the veg. Add more to thin it out if you'd like. Use your favourite stock cubes and use a little less water than the packages instructions.
Method
1. Peel and Prepare all of your veg by fine dicing the Onion, Garlic, Leek, Celery & Carrots.
Rough chop the mushrooms and potato.
2. In a Large pot add 2 Tbls Olive Oil or butter to a medium heat.
3. Fry the garlic for a couple of seconds, then add the onion for a couple of minutes. Add the Celery, Leek, Carrots, Mushrooms , Potato and herbs, mix them in the pot and sweat them for about 5 mins.
4. Add the stock to cover the veg, mix it through and simmer with the lid on for about 30mins. Until the veg is well cooked.
5. Take it off the heat, add 2 big handfuls of Gnomes Microgreens and give it a good blend!
6. IMPORTANT STEP: Add some extra stock to thin the soup or let it simmer with the lid off to thicken it up. Use your taste buds and add salt & pepper to what you like. Garnish with some Microgreens and serve with croutons, fresh rolls or whatever you like.