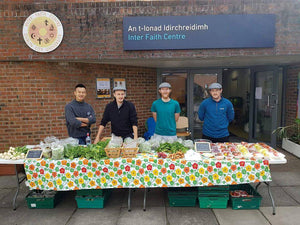 So how did it all start?
** Photo of one of our first stalls in DCU, Glasnevin, outside the Interfaith Center (Which gave us great support!, thank you guys!). From left to right - Li (Mutual Friend), Marty (Gnomes), Jason (Gnomes), Shane (Gnomes).
How it all began 2015 - 2017, Entering the World of Naivety...
...the year was 2015 and Jason was participating in a local employment horticultural scheme on the DCU, Glasnevin Campus and recommended a position to Martin. Martin had just finished in college as an IT Support Specialist/Engineer and decided to join his long time pal Jason in DCU's horticultural program as he had a keen interest in growing vegetables too.

The garden was in extremely bad condition from neglect, vandalism and it had every invasive weed, however, we were enthralled by the place and many ideas would flow around lunch time.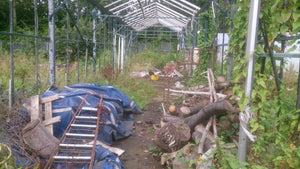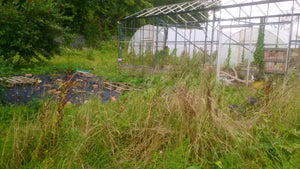 ...BUT it did have alot of potential for those willing to make it happen!
Shane seen this potential and joined as a volunteer in 2016, spending time with his brother Martin and friend Jason. During our time in the garden we met our horticultural mentor and now life long friend Andrew, we began to take what we were doing in a more professional direction.

In order to make this work we had a huge task ahead of us and aspects were only realised as we started on our journey. We ordered in as much information as we could! Books & courses on soil biology, crop planning, "how to grow books" and on every other conceivable area! From bookkeeping to herbs. We had a huge learning curve to overcome.

Martin's IT background paved the way for meticulous data collection, spreadsheet analysis and serious crop/business planning. He is also an avid reader and so became an impromptu mentor for the newly established group. Working with DCU Sustainability The Gnomes began to take shape.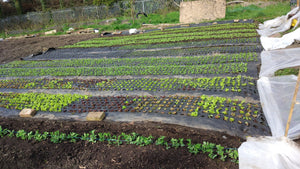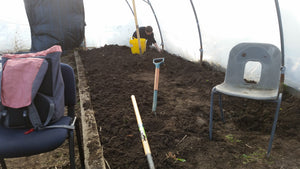 From 2017 - 2019, Entering the World of Pain & Growth...
... These were the hardest years for us! While having to learn about how to grow about 30 different crops (and still learning), prepare 1/4 of an acre with meager hand tools, remove copious amounts of waste & debris, we had to contend with the dreaded bindweed! We only wanted to use organic & regenerative methods so digging by hand was our only option! Oh the pain...! All produce was offered by way of donations and everything was put back into the garden.
From 2019, Entering the World of business...
... We registered The Gnomes in 2019. After those painful, naive few years, we stuck with it long enough to become proficient growers. The soil condition was improving steadily and the weeds were beginning to be tamed...abit. Even though we quested to produce the highest quality veggies around, nobody would know about it! We had to learn how to market & advertise!

** Shane & Jason pictured here in spring 2019.